So a good friend of mine from DeviantArt, Ironicatty, told me recently how she's noticed that everything she draws for herself tends to skew towards a goth or punk style; and she'd like to draw something with a totally different vibe. Well, I'm always one for giving people new ideas; and if you've ever read the Origin of Jinji's Name, you'll know that one of his original inspirations was the Ninja. So I thought, why not ask her to draw Jinji in the style of a Ninja?
24 hours later, I had the result… and boy, did she deliver!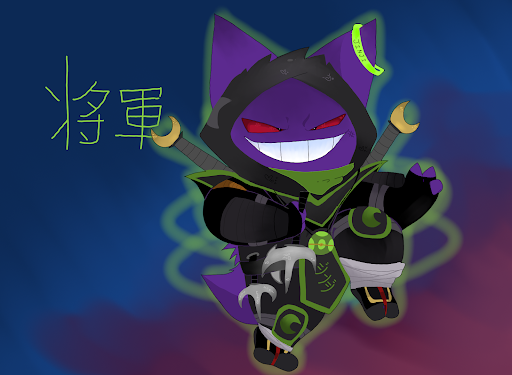 The most amazing part of this, in my view, is the way Ironicatty has managed to integrate all of my unique traits into my Ninja gear: My green tongue (green is the accent colour for the entire costume as well as my aura); my dusk ball pendant (taking pride of place in the very centre of my armour); and my crescent moon arm marking (crescent moons feature on my shin guards and on the handles of my twin katanas).
You can view (and, if you're registered to DeviantArt, comment on) the original work at DeviantArt.